Cow Science
Panchagavya - Uses, Benefits & Understanding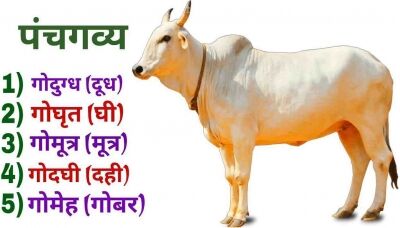 Panchagavya - The description of the cow is the abode of all gods and the medium of achieving Dharma, Artha, Kama, and Moksha are found in many ancient Indian texts. In Vedic Literature, Prithvi is the synonym of Gau (Cow). In ancient times, a man's abundance was judged by the number of cows he possessed.
History gives evidence that the Indians were in the peak of health when the cow was respected. There was the commercialization of cow products in ancient times. Milk and grains were given free of cost. Milk was offered instead of water. Rightly said, streams of milk and curds traversed this country. This was the reality some years back.
Ayurveda has given utmost importance to cow's milk, curd, ghee, urine, and dung at various places. These substances are called Gavya in Ayurveda. When the five are considered together, they are called Panchagavya.
The 5 entities classified under Panchagavya are Gomutra (cow urine), Goghrita (ghee), Godadhi (curd), Gomaya (cow dung), Godugdha (cow milk). The above 5 have their individual properties and uses:

TRADITIONAL CLAIMS OF PANCHAGAVYA (INDIVIDUAL)

Milk

Urine

Ghee

Curd

Dung

Psychosomatic disorders

Skin diseases

Fever

Fever

Skin diseases

Constipation

Leucoderma

Constipation

Oedema

Cough

Anemia

GI diseases

Anorexia

Blood disorders

Asthma

Piles

Piles

Skin disorders

Piles

Arthritis

Diarrohea

Asthma

Epilepsy

Rhinitis

-

Ulcers

Anemia

Dementia

Anorexia

-

GI diseases

Jaundice

Ophthalmic diseases

Jaundice

-

-

UT infections

Tuberculosis

-

-
Panchagavya obtained from the cow is used in the production of various medicines, manure, pesticides, dhoop, toothpowder, bath soaps, etc. The combination of the above mentioned 5 entities, obtained from cow, is known as Panchagavya. It is highly beneficial in the following diseases:
1. Epilepsy
2. Swelling
3. Fever
4. Jaundice
5. Cough
Dosage
According to Ayurveda, the dosage is always set as per the patient's condition. For example, in severe piles, buttermilk should be given 3-4 times a day.